Enhancing technology through the development of scalable solutions to address intricate challenges.
Solution Architecture & Design
Empowering clients with future-proof platform, app solutions architecture through industry-standard design.
Revolutionizing solutions through cutting-edge architecture, data, service, and design. Ensuring compliance with business and security requirements.
Requirement Modeling
Architecture analysis
Prototyping/POC
Architecture Principles Detailing/Layout/Solutioning
Innovating next-gen app architecture aligned with enterprise architecture.
Application assessment and classification
Gap analysis
To be architecture
Information/Security/Disaster Recovery architecture
Adopting new tech and streamlining enterprise deployment. Integrating tech and domain with accelerators.
Research and strategy
Rapid ideation and design
Build vs. buy evaluation
Beyond web and mobile channels
Bringing data to life through modeling and storytelling. Adopting modern data architecture with streaming, messaging, and batch processing.
Domain data modeling
Information architecture
Data modeling/analytics/migration/visualization
Data subscriptions

Cognitive & Intelligent Automation
Leveraging AI, BPM, and RPA to optimize data ingestion, storage, and manipulation for improved business outcomes and increased efficiency.
Offering tailored enterprise consulting for ideal automation solutions.
End-to-end automation strategy
Envision customer journey
Optimize operations to reduce cost
Product evaluation & planning
Enhancing automation operations through expert support from ideation to maintenance.
Center of Excellence development
Automation roadmap & strategy
Support & maintenance
Implementation
Bringing process governance and digital transformation to life through engineering expertise.
Business Process Management
Robotic Process Automation
Data & Analytics
Artificial Intelligence & Machine Learning
Driving informed decisions with business intelligence and real-time analytics. Measuring automation progress with key metrics.
Real-time reporting
Productivity tracking
Resource & infrastructure utilization
Quality Engineering & Automation
Providing tailored testing services for all domains, technologies, and applications. Consolidating people, processes, tools, and infrastructure into a shared services approach. Delivering improved quality, faster time to market, and reduced testing costs as tangible business benefits.
Customizing framework and test development for banking applications.
Data-driven domain testing
Message-based testing
Customized accelerators/tools
Automated tools for audit & disclosures
Providing comprehensive end-to-end automation through various testing methods.
UI, API, and application-based testing
Mobile testing
Performance testing
Network, security & presentation testing
Adopting a process-oriented approach for QA automation.
Agile frameworks for automation programs
Process definition, artifacts - templates and checklists
Audits and standardization
Real-time monitoring and reporting
Automating functional, regression, and smoke testing. Streamlining enterprise-level automation with a framework and codeless approach.
Shift left automation approach
Behavior-driven tests
RPA-led QA process
Cognitive AI/ML techniques

Microservices & API Development
Implementing state-of-the-art microservices architecture for scalable and robust solutions with end-to-end visibility. Focusing on integrating complex applications.
Transforming enterprise API development, migration, and maintenance.
Crafting resilient, scalable, interoperable, and non-redundant services.
Domain-driven design & cloud native
Digitalization roadmap & application portfolio rationalization
Loosely couple services
Messaging, APIs, Gateways, and Meshes for interoperability
Engineering single responsibility microservices using the most suitable design patterns.
Single responsibility
Fault tolerant
Elasticity
Orchestration
Speeding up build processes and testing with continuous integration and build.
Achieving cost-effective, automated, and reliable deployments.
Scalable microservice and container orchestration
Managed/serverless
Continuous integration & deployment pipelines
Track key insights - DORA metrics
Efficiently monitoring service health and performance.
Performance monitoring
Distributed tracing
Anti-corruption layer - protecting domain models from intrusion
Log visualizations
Blending software development and IT operations for faster time to market and increased efficiency.
Enhancing process automation and application delivery through collaborative work environments.
Employing efficient agile methodologies for software development.
Lean SDLC Practices
Continuous integration and testing
Operational readiness
Release planning
Accelerating time to market with reduced delays and increased production releases.
On-demand infrastructure provisioning
Continuous delivery
Synthetic transactions
AI Ops including outage prediction
Leveraging best practices to prioritize business goals and implement monitoring controls.
Knowledge & content management
Monitoring/Alerts/Performance Analysis
Cross functional and product trainings
Disaster recovery
Incorporating security and data quality into the development lifecycle from the outset.
Security vulnerability coverage
Data pipeline integration
Data security at rest and in-transit
Data replication and recovery
Artificial Intelligence & Data Science
Using top-notch techniques to extract insights and streamline automated decision-making.
Drawing on extensive experience in building high-performing AI and data science solutions to inform our standards and practices.
Revolutionizing businesses through cost optimization and enhanced operational efficiency.
Guiding stakeholders to make data-driven decisions.
Insights with strong domain understanding
Linguistic analysis of text, speech, and embedded data using natural language processing
Processing images, video, and OCR using computer vision
Feedback control
Gleaning meaningful insights from business data to detect issues and predict future outcomes.
Data mining
Improved data realization
Predictive and prescriptive analytics
Anomaly detection
Executing machine learning model training, testing, and implementation.
Decision-making insight
Scoring and classification
Model continuous bias monitoring and control
Model optimization and lifecycle management
Constructing a set of architectural principles for deploying and monitoring data science models in production.
Hot-swappable (support upgrade/downgrade on demand)
Limited boot-up time for models
Runtime trackability
B2B mobile app for diagnostic tests booking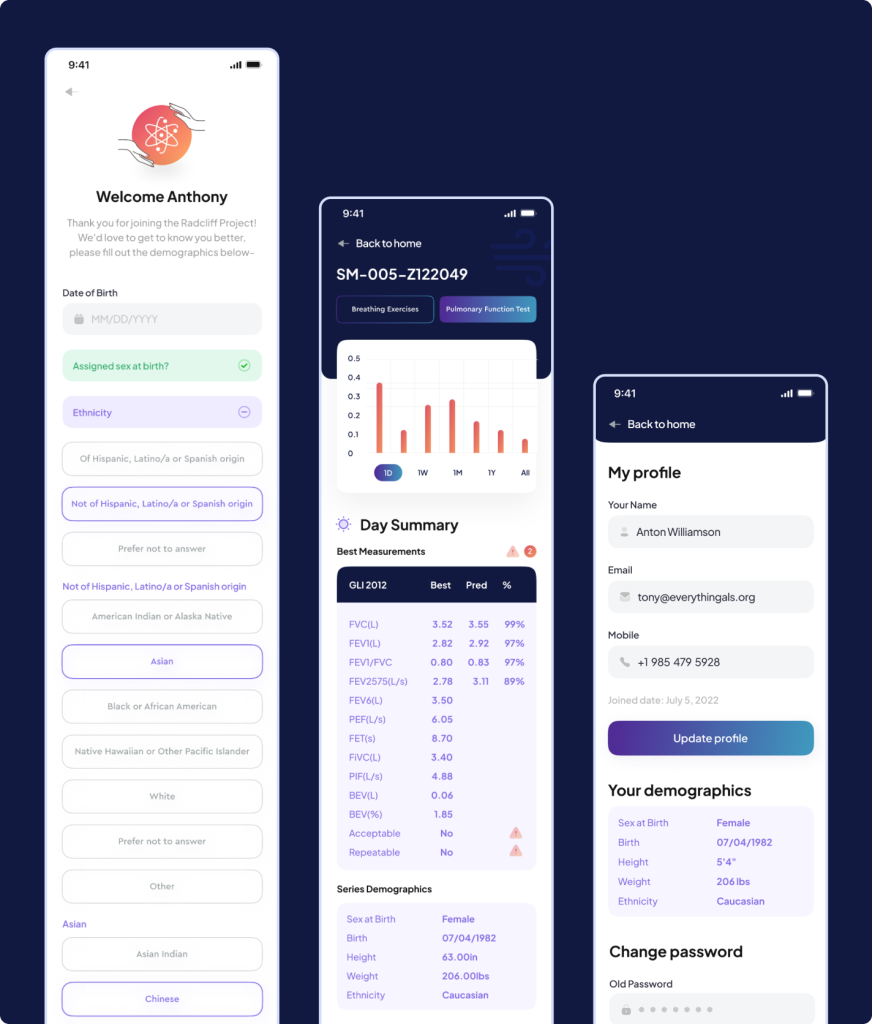 Mobile app and web platform for a leading ALS research organization
Want to see more projects?
Let's collaborate
to build an epic
digital product